Professor Dr. Stephan Jolie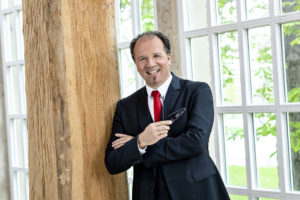 © JANA Kay
The Vice President for Learning and Teaching is responsible for all aspects of learning and teaching, for helping academics combine family and career as well as for continuing academic education and training in the field of university teaching. Among other things, the Vice President for Learning and Teaching also deals with the fundamental aspects of the Higher Education Pact and the Teaching Quality Pact along with other learning and teaching support projects and is also in charge of library-related matters and the promotion of contacts between schools and the university. Professor Dr. Stephan Jolie assumed the post of Vice President for Learning and Teaching at Johannes Gutenberg University Mainz (JGU) in January 2018.
Stephan Jolie, born in 1965, studied German Studies, Philosophy, and Musicology at the universities of Frankfurt/Main and Munich. After acquiring his doctorate in 1995, he was a research assistant for Old German Literature at Goethe University Frankfurt to 2002. In 2004 he received his post-doctoral lecturing qualification in German Studies with specialization in Old German Literature from the Faculty of Modern Languages and Literatures at Frankfurt University. After deputy professorships at the universities of Frankfurt, Erlangen-Nuremberg, and Freie Universität Berlin, he was appointed Professor of Old German Literature at the JGU German Department in 2007.
The new Vice President for Learning and Teaching benefits from his comprehensive and wide-spread experience gained through his work on various JGU committees. From 2011 to 2017 Jolie was Dean of Faculty 05: Philosophy and Philology. He has been particularly active in the field of the internationalization of learning and teaching. Since 2007 he has been the Dijon representative of the university's German Department. He was principal applicant and coordinator of the TALC-me: Textual and Literary Cultures in Medieval Europe Erasmus+ Strategic Partnership program, which was funded by the EU from 2014 to 2017 and focused on the opportunities for as well as prospects and challenges of international courses of studies in the humanities and cultural sciences. Jolie has also concentrated on the strategic further development of innovative teaching at JGU. Thus, for example, he initiated innovative teaching projects, such as theatrical performances realized in cooperation with the Mainz State Theater.