Professor Dr. Georg Krausch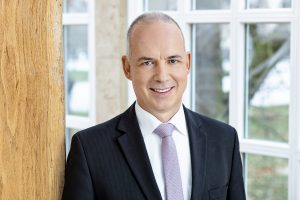 © JANA Kay
The President heads and represents the university. He is accountable to the Senate and responsible for preparing and executing its decisions. He is elected by the Senate on the recommendation of the University Council. His period of office is six years and re-election or dismissal is possible. Since 2007, Professor Georg Krausch has been President of Johannes Gutenberg University Mainz (JGU). In December 2017, he was re-elected by the Senate for a third term in office.
Since his election in 2007, Krausch has placed his main emphasis on the continuing development of the university's profile in research, teaching, and the advancement of young researchers. For this purpose, he is employing of an innovative strategic approach to university governance involving the wide-ranging skills and expertise of all members of the university, i.e., its students, teaching staff, researchers, and the many administrative and technical staff members. He considers JGU to be an 'open university,' an integral part of society, with which it closely and trustingly interacts.
Georg Krausch was born in 1961 and studied Physics at the University of Konstanz. After completing his doctorate and acquiring his post-doctoral lecturing qualification, he was Professor of Physical Chemistry at Ludwig-Maximilians-Universität München / LMU Munich from 1996 to 1998. In 1998, he was assigned to the Chair of Physical Chemistry at Bayreuth University. Krausch has more than 160 research publications to his name, which have been cited over 10,000 times. In recognition of his research work, he was appointed a Fellow of the American Physical Society (APS) in 2009. Since 2013, he has been a member of the German National Academy of Science and Engineering (acatech). In 2014, he was awarded the Leibniz Medal of the Academy of Sciences and Literature Mainz; in March 2020, he was appointed full member of the European Academy of Sciences and Arts. As President of Johannes Gutenberg University Mainz, Krausch was a founding director of the Mainz Research Alliance. In 2020, Krausch was elected Chairman of the German U15 association of 15 large research-oriented universities, which he had served as Deputy Chairman from 2014 to 2020.