Dr. Waltraud Kreutz-Gers
The current Chancellor of Johannes Gutenberg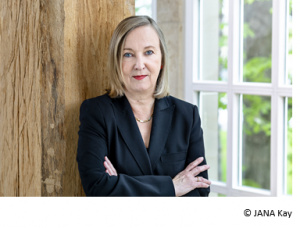 University Mainz, Dr. Waltraud Kreutz-Gers, was appointed on 1 September 2013.
The Chancellor is responsible for University administration and finances. Acting on behalf of the President, the Chancellor ensures that all administrative and legal University business is undertaken in accordance with the statutes. Within this specific area of responsibility, the Chancellor can also directly deputize for the President.
The Chancellor is appointed by the President, although the appointment must be approved by the Ministry of Education, Science, Continuing Education, and Culture. The University Council may also make nominations for the office of Chancellor. The Chancellor is appointed for a period of eight years.
Dr. Waltraud Kreutz-Gers, born in 1959, studied social sciences, economics, and law at the universities of Bochum, Oldenburg, and Hagen. Following research in Canada, she obtained her doctorate on reforms in party funding. After completing her North Rhine-Westphalia business clerkship she undertook various functions in the Ministry of Science of North Rhine-Westphalia from 1999 on, interrupted by a visiting professorship at the University of Siegen and a position as Commercial Director of the Max Delbrück Center for Molecular Medicine Berlin-Buch. Since 2003, she has been Director of the Research Department and later the University Department in Dusseldorf, and, in this context, member of the Medical Committee and the Committee of Teaching in the German Council of Science and Humanities, Chairwoman of the Supervisory Board of the University Hospital in Essen, as well as representative of the state of North Rhine-Westphalia in the Higher Education Committee of the Standing Conference of the Ministers of Education and Cultural Affairs.