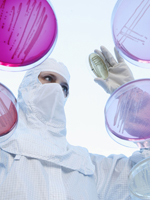 Johannes Gutenberg University Mainz is one of the leading research universities in Germany and with its more than 150 institutes and clinics, the School of Music, and its Academy of Arts represents the academic hub of the federal state of Rhineland-Palatinate.
The outstanding research capacity of the more than 3,200 academics at JGU has resulted, among other things, in the university's marked successes in the German Excellence Initiative, with the recognition of the PRISMA Cluster of Excellence and the continued support for the MAINZ Graduate School. Together with numerous individual projects and initiatives, there are five research centers and seven research units that represent the university's particular strengths in science and research. Third-party funds play a major role here: in 2012, JGU received approximately EUR 94 million in donations.
The Research and Technology Transfer staff unit advises and supports academics at Johannes Gutenberg University Mainz who are looking to acquire third-party funds from national and international sponsorship programs, to undertake joint projects with external partners, or to facilitate the commercial exploitation of their research findings. Numerous internal research projects and initiatives are supported by the inner-university research support program. The staff unit also provides advice during the funding application process.